AMPHIBIANS - "New Day" ('80s - '90s Rock)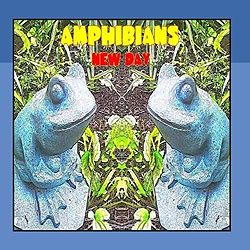 This '80s - '90s New Jersey Rock group features the versatile songwriting team of brothers Fred and Bob Garaffa. The Amphibians dig back to simpler times when vocals were key, melodies integral and lyrics from the heart. They have had accolades from their live shows at CBGB's and The Bitter End in New York. The brothers composed the Theme song for the Fox Series "Hollywood Today Live".
"
Progressive rock with brilliant melodies.
" -
Billboard Magazine!
" A great band from New Jersey, a wonderful band that's going to be around forever." - Don Dixon (REM/Counting Crows/Smithereens producer)

"Ran across the "Amphibians" song "New Day" on my playlist today.! Don't know if they are still around but I dug that band." - Nikki Sixx (Motley Crue)

"A sixties British sound with cool guitar riffs. It's nice to hear a song that sounds happy without being saccharine." - Jerry Harrison (Talking Heads)


MP3 1. "Here Comes Tomorrow"

MP3 2. "Hangin' On"

MP3 3. "Keep Your Distance"

MP3 4. "Wouldn't You Like It!"