THE VOLUMES - "I Love You" (R&B / Doo Wop)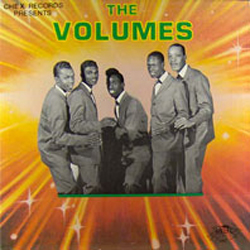 The Volumes was an R&B vocal quintet from Detroit, Michigan that became famous during the early 1960s. They are best known for the upbeat, Latin-influenced doo-wop smash, "I Love You" (1962), an oldies classic that showcases lead singer Eddie Union's soaring and soulful falsetto vocals and the group's close-knit harmonies.

Formed in 1960 while the members were all still in high school, the lineup consisted of tenors Elijah Davis and Larry Wright, baritone Joe Travillion, bass singer Ernest Newsom, and lead singer Eddie Union. While performing in Canada in 1961, the quintet was discovered by Willie Ewing who became their manager and signed them to his label, Chex Records.

"I Love You" debuted on the Pop charts in '62 and became a Billboard Top 40 hit (June 2, 1962).

This smash was followed by "Come Back Into My Heart" (1962), "Dreams" (1962), "The Bells" (1963), and "I Cried For Your Love" (1964), the latter of which became a top regional hit in the Detroit area. Other songs for which The Volumes are well known include the non-charting "Hello Operator" "Roly Poly" and "I Wanna Be Your Man".

In 1979, The Volumes "I Love You" was featured in the soundtrack of the coming-of-age Feature Film "The Wanderers".
MP3 1. I Love You
MP3 2. Dreams
MP3 3. Hello Operator
MP3 4. The Bells
MP3 5. Come Back Into My Heart
MP3 6. I Cried For Your Love
MP3 7. I Wanna Be Your Man
MP3 8. Miss Silhouette
MP3 9. Roly Poly
MP3 10. County Jail
MP3 11. You Got A Spell On Me