MILO Z - (Rock / Funk / Jazz)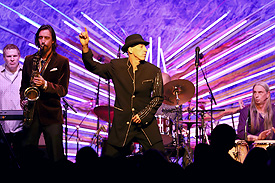 Milo Z likes to call his multifaceted sound -- an eclectic blend of funk, jazz, hip hop and rock -- "Razzamofunk".

Over the years, Milo and his band have released five full length albums, served as TV host Carson Daly's house band on the NBC Series "Last Call with Carson Daly" and performed with the likes of Al Green, the Neville Brothers, Maceo Parker, The Average White Band and Robert Randolph. Carson Daly has dubbed Milo Z a "New York Institution!"

MP3
1. Friendly Talk

MP3
2.Long Time

MP3
3. Reefa Man

MP3
4. Boom

MP3
5. Food

MP3
6. One Good
Reason